Curious about how the COVID-19 pandemic impacted the work environment at Emtex Life Science? Read more about a personal experience of a medical writer joining Emtex Life Science.
Do you also long for returning to the normal situation from before COVID-19 as so many other people? For me, there was no 'before' in my current profession; I started working at Emtex Life Science during the pandemic. Allow me to share my experience of joining Emtex Life Science during these special times.
The second lockdown was announced when my Emtex Life Science adventure started. I quickly started full-time teleworking. To make me comfortable in my own home office, they got me fully equipped, avoiding struggles with working on a small screen, bad internet connection or unsafe networks.
With only limited time at the office, I met most of my colleagues online. Everyone was truly supportive and friendly. I was new, but never left to my fate. With guidance of experienced medical writers and a personal mentor, I always had someone to reach out to.
I could sense that my colleagues were great people, but there was little opportunity to get to know them personally during our daily online work routine. I was therefore really excited when they restarted their weekly online coffee breaks. In my second month at Emtex Life Science, I attended my first team event with an online teambuilding. I really enjoyed these moments where I could connect with my coworkers.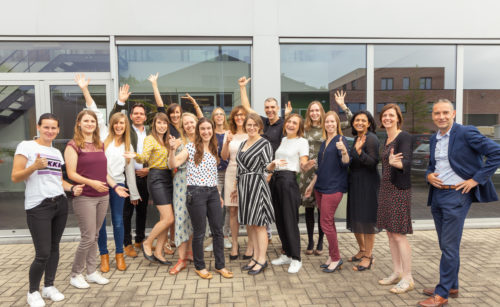 Since medical writing is a profession that is perfectly feasible at home, we've been working home-based for an extensive period during the pandemic. In the end, I really pitied not being able to get to know my coworkers in real life. I was therefore delighted when teleworking was no longer compulsory. We have celebrated this event with a photoshoot for the new corporate identity, launching a brand new start for Emtex Life Science and a hybrid home-based and on-site working environment.
For me, this new way of working turns out great, combining all advantages of a flexible home office and avoidance of long traffic hours when working home-based and building a real life connection with my coworkers when on-site. Turns out my colleagues are as great as I imagined. I'm looking forward to the next chapter of my Emtex Life Science adventure!