It could have been a cover of Fatboy Slim's top 10 hit.
But it's not.  Ravers don't sit, they dance.  
It could have been a nursery rhyme we'd learn as a kid.
But it's not.  Kids don't sit, they run around. 
It's kind of a sad story, actually. It's a summary of a medical writer's day.
Why tell a sad story?
We've all had enough of them, don't you think? 

Whether sitting is the new smoking (as stated in 2014 by James Levine, a professor of medicine at the Mayo Clinic) or not remains a point of discussion, but everyone probably realizes that changing our sedentary lifestyle is the ultimate challenge of the 21st century. Humans are built to stand upright, but we seem to have forgotten about that while evolving over time. Our sedentary lifestyle, often referred to as 'sitting disease', increases the chance of being overweight, developing type 2 diabetes or heart disease, and experiencing depression and anxiety (among other things). It's even considered one of the most unanticipated health threats of these modern times. 
As medical writers, we are stuck at our desks and computers during the greatest part of our working day. However, with some effort, we can already lighten the burden of this daily sitting marathon. And that's exactly what the H2H team at Emtex Life Science is striving for.  
H2H was initiated 5 years ago and stands for 'healthy to happy', as we truly believe that employees feeling healthy or maintaining a healthy lifestyle will render happiness at several levels. Fair enough, it's also a reproduction of our Emtex Life Science slogan 'passion to precision'. The goal of H2H is to promote a healthy lifestyle at work and help our colleagues (and ourselves) break through the sitting behavior. The initiative offers a variety of activities, focusing on a healthy diet, physical activity, and tools to improve our sedentary lifestyles. 
Over the past 5 years, several activities and challenges have been organized by H2H. The challenges mainly focused on a healthy diet and each lasted 30 days. We've encouraged each other to eat 500g vegetables a day, drink at least 1.5L water a day, remove meat from our menu, and limit our daily sugar intake. In addition, we've competed against each other to take as much steps a day as possible. H2H has also provided tips to regularly get up from our chair and introduce more exercise into our (working) day. We even took it further and organized several sports activities, including a sports day, series of lessons bootcamp and padel, and participation in the 'Warmathon' (ie, running or walking for a good cause). Since last year, H2H's latest initiative 'Sports after work' is ongoing, which gives all Emtex employees the opportunity to try out different kinds of sports during a monthly 1-hour session after working hours.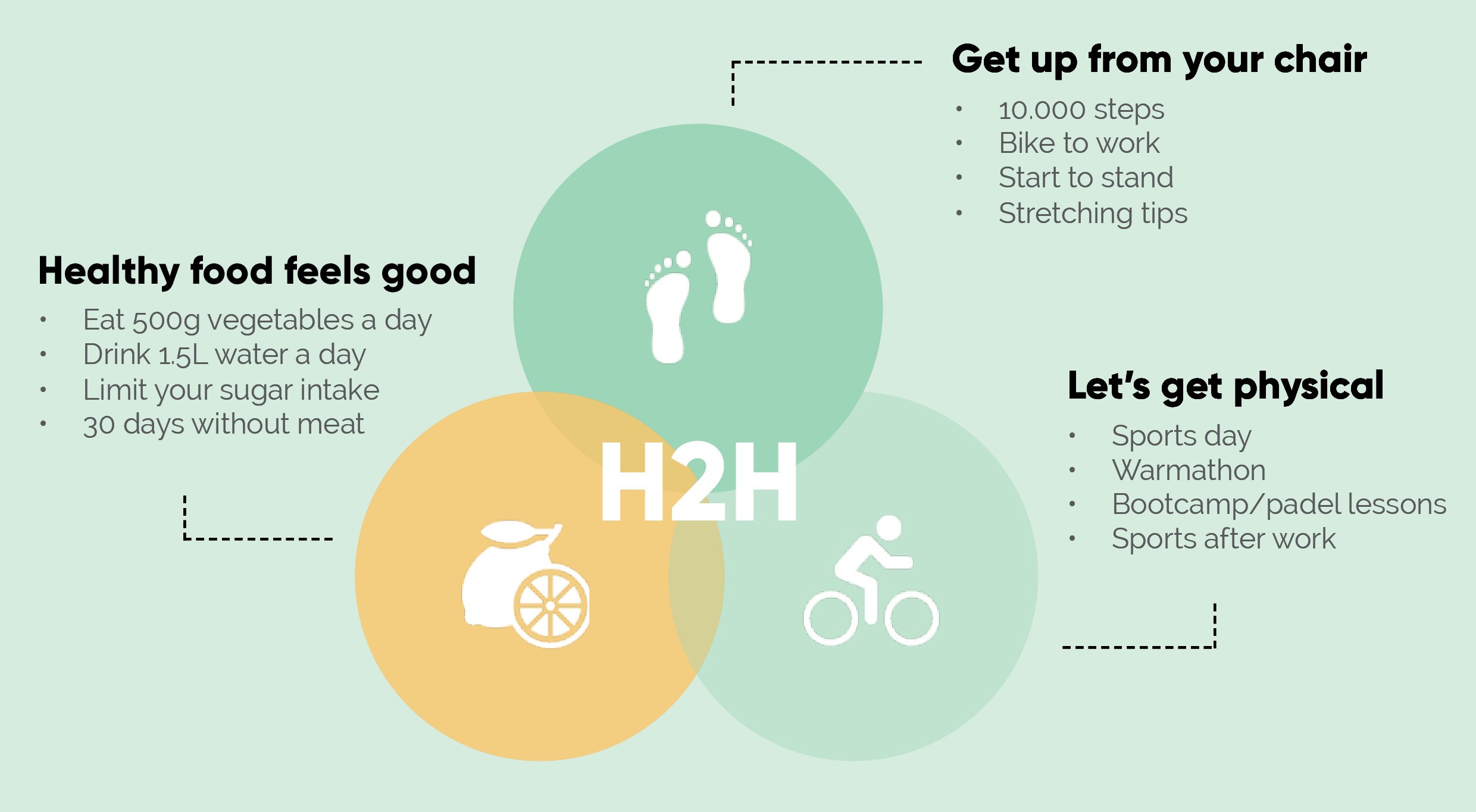 All together, H2H's aim is to raise awareness on a healthy lifestyle, focusing on food intake and exercise. In addition, working out together and challenging each other really boosts the team spirit, which is beneficial from a mental health perspective as well. The healthier, the happier! 
EAT – SLEEP – SIT – REPEAT.
It could have been the daily schedule of an Emtex employee.
But it's not.
Emtex employees don't sit, they H2H.  
[Written by H2H (Asmin Andries, Ans Rombout, Griet Van Acker)]