Medical writers create documents that need to meet very high quality standards. Therefore, quality control is an important step in writing documents. Learn more about quality control at Emtex Life Science medical writing in this article.
WHAT
In general, quality control is a process to ensure that the quality requirements and standards defined for a product or service are met. In medical writing, quality control refers to the set of activities performed to guarantee the high quality of documents. Quality control means checking if the document is clear, accurate, well organized, and consistent so that it is easy to read and comprehend by the targeted reader. Prior to starting a quality control review, a meeting is often set up between the writer and the quality control reviewer to discuss the expectations and requirements to successfully perform a quality control review. Be aware that the quality control reviewer's task is not to rectify the document! A document that has been self-inspected and written using lean authoring principles should result in reduced quality control time and increased quality.

WHY
The main objectives of quality control in general are to improve customer satisfaction and to help differentiate a business from its competitors. In medical writing, poor quality or mistakes may lead to errors in interpretation, cause the reader to question the validity/reliability of the content, result in regulatory authority rejection, and harm a company's reputation. It is therefore crucial to perform quality control activities and to have a sound quality control process in place.

WHEN
As a thorough quality control review takes time, this step should be taken into account when mapping out the document development timelines. Quality control is performed before finalization of every document. In addition, at Emtex Life Science, every version of a document that is sent to internal and/or external reviewers (i.e. our customers) is checked prior to the first review and after implementation of comments from each review cycle in order to provide the reviewers with the highest quality document.

WHO
Quality control before document finalization is executed in an objective way by a colleague who was not involved in the writing activities (i.e. an independent writer taking on the function of a quality control reviewer). Intermediate checks on earlier drafts are done by the document writer (i.e. self-inspection) or by a colleague if needed. For junior writers, an in­depth check by more experienced colleagues is done before the first draft is circulated for review.
HOW
The quality control process is guided by a standard operating procedure or guideline. In addition, quality control checklists indicating the items that need to be checked, are useful tools for both the writer during authoring/revising the document and the quality control reviewer (e.g. to keep track of progress). In some occasions (e.g. projects with very tight timelines), time for quality control prior to finalization is limited. To guarantee that the entire document is checked properly, the quality control review can be divided into 'batches' (allowing the writer to start implementing findings while review of other parts is still ongoing) or among multiple reviewers. During a quality control review at Emtex Life Science, value is attached not only to indicating errors but also to clarifying why something is incorrect. This reduces the time required by the writer to implement quality control findings. Focus is key when performing quality control, so needless to say that it is important to take breaks!
In conclusion, quality control is a crucial step in document writing. At Emtex Life Science, quality control is performed thoroughly throughout the document development process by the document writer as well as by an independent writer. Documents that do not meet high quality standards risk to be rejected by regulatory authorities, which can have a major impact on a company's reputation, but most importantly on patients in need of an approved medicine.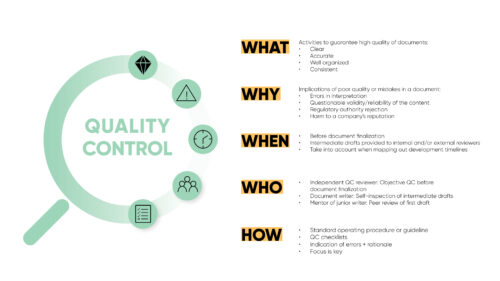 Special thanks to: Mieke Notenbaert and Ans Rombout